Volunteering Opportunities
All parents, guardians, and family members who plan on volunteering at school or any school sponsored event, where children are present, are required to complete the following:
1. LiveScan Fingerprinting
Please obtain 2 copies of our school specific form from our school office.

Bring your forms to any LifeScan Fingerprinting facility. The closest facility is the Danville Police Department.

Retrrn your signed form to the school office.
2. Online Training Course
Go to VIRTUS Online Training

Create an account

Register for the ONLINE course, called "Protecting God's Children," located near bottom of list of in-person courses.

Print certificate and bring to the school office.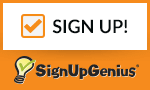 All Volunteering Opportunities